My spicy pirate novella Uncharted Territory is available now from Whiskey Creek Press http://tinyurl.com/kth6hp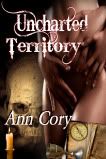 Blurb
An evening aboard an exotic cruise ship turns into a nightmare for Charlotte Alderman. Cold and wet, she makes her way ashore what appears to be a deserted island, until she runs into a devastatingly handsome stranger with a sword. The last thing she needs is to fall for some ill-mannered pirate who only has gold and jewels on his mind.
Captain Phineas Parr gets quite a surprise when he comes across a beautiful lass draped over the very spot he plans to dig for buried treasure. Convinced she is a spy working for his archenemy, Fowler, he decides to keep an eye on her, though to look at her is more of a pleasure than a pain.
As Charlotte helps search for the hidden booty, she discovers that adventure has been missing in her life, while Phineas realizes that love can be the greatest treasure of all. The only thing standing in their way is a murderous pirate with a score to settle.
WOOT!
My apologies for not updating over the weekend - I just didn't feel very well. I'm still not, but hopefully this week will be better! I get blood tests taken again next Monday *sigh* and hopefully my results will be better too
~Ann